A Wood-Carving Cowboy From Texas
There's a second title I had in mind for this article (and one that's a lot more fitting!) Here it is:

Cool Carvings From A Cantankerous Cowboy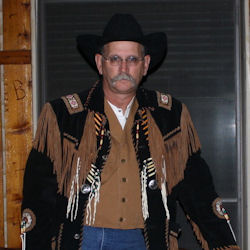 I never thought I'd meet a real cowboy (or I should say) he's a cowboy at heart.
This cowboy I know works long days as a site manager for a Texas recycling facility, but the rest of the time when he's feeling creative, I know where his heart lies.
Meet Judd Treat.
His first love is ranching – a nod to his western roots. It seems only natural that he would pick up a hobby that would fuel his passion for the outdoors.
In the little spare time that he has, Judd is a relief carver. He creates beautiful carvings in wood and he credits God for his awesome talent. Talk about a spiritual gift!

Call it recycling or upcycling.  No matter.
Judd can take an old abandoned piece of scrap wood and turn it into a one-of-a-kind piece of art.
Now, what about that "cantankerous" thing?
Anyone who knows him would say the same thing. He acts a little cantankerous, but always with a mischievous grin! You just have to look close enough to see it.
(Photo courtesy of the Treat family collection. All other photos are mine, except where indicated.)
A Closer Look at Carving Intricate Details in Wood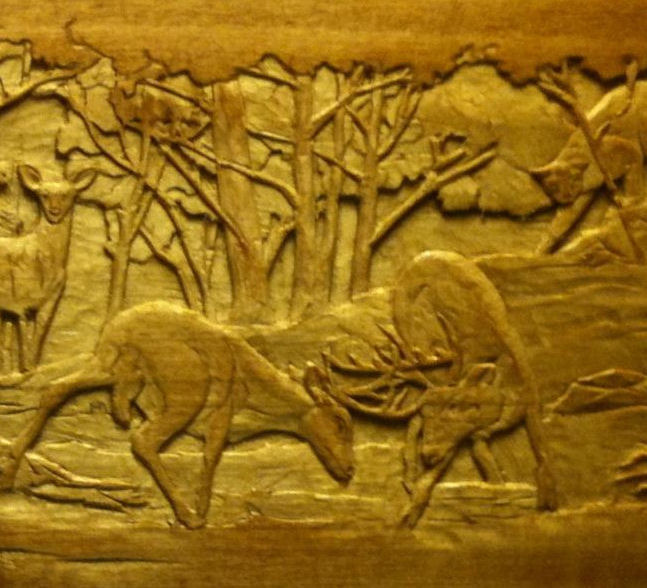 I love this piece. I hope this photo can do it justice. Notice the fine details in the wood. See the branches in the trees and the entangled deer antlers?
Pretty incredible, huh?
Relief carving is an old, old art form. There are different categories of it including high relief, mid-relief and low relief. A high relief carving looks almost three-dimensional.
For me, I'm just "relieved" that Judd is the one doing the carving. 🙂

A Relief Carving Cowboy In Action
"Deep in the Heart of Texas" is performed by Jack Jezzro from his popular Western Swing [Audio CD]. Greenhill Productions, 1997.
Wood Carving Takes Knife Skills
The tools are sharp. Watch those fingers!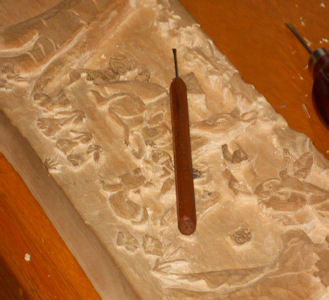 A few cuts here and there don't bother Judd. If relief carving was easy, I doubt he'd even be interested. It takes time, patience, and hard work to complete one of these projects.
Judd says he can finish some of the easier projects in a couple of days, like the wooden hair clips he makes to hold up ladies' hair. Other projects will take him several months. After all, he does work during the day 🙂
Like a lot of artists, he's intently focused on each project at hand, but he's already onto the next one in his mind.
"Alright this one's almost done. I've already got in my mind what I want to go and do next."
Carving Those Intricate Details Requires Some Expertise
Lora Irish is one of Judd's favorite relief carving artists. Judd is self-taught although he does own a few relief carving books. He describes Lora Irish as "one of the best relief carvers out there."
Carving is a skill and it takes practice. It's important to start with something simple. Judd says you can begin with a flower and add some leaves or do a vine. Then, work your way up.
When I was little, I never dreamt that I would be carving wood.

– Judd Treat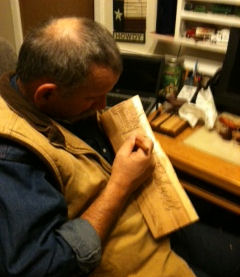 Judd – when did you start carving wood as a hobby?
I've always had an interest in woodworking. My granddad was a carpenter and I remember as a kid just being out in the shop with him and just watching him do woodwork. He'd give us an old block plane, just a simple block plane, and we'd be out there just planing on wood, not making anything, but just watching those little wood curly cues come up. I can count all the fingers on my hands still, so I guess God's looking out for me.
I've always had an interest in woodwork. Most of my carvings to this point I've done for somebody else and I just give them away. This is not a thing I do to earn money.
Cowboy Beginnings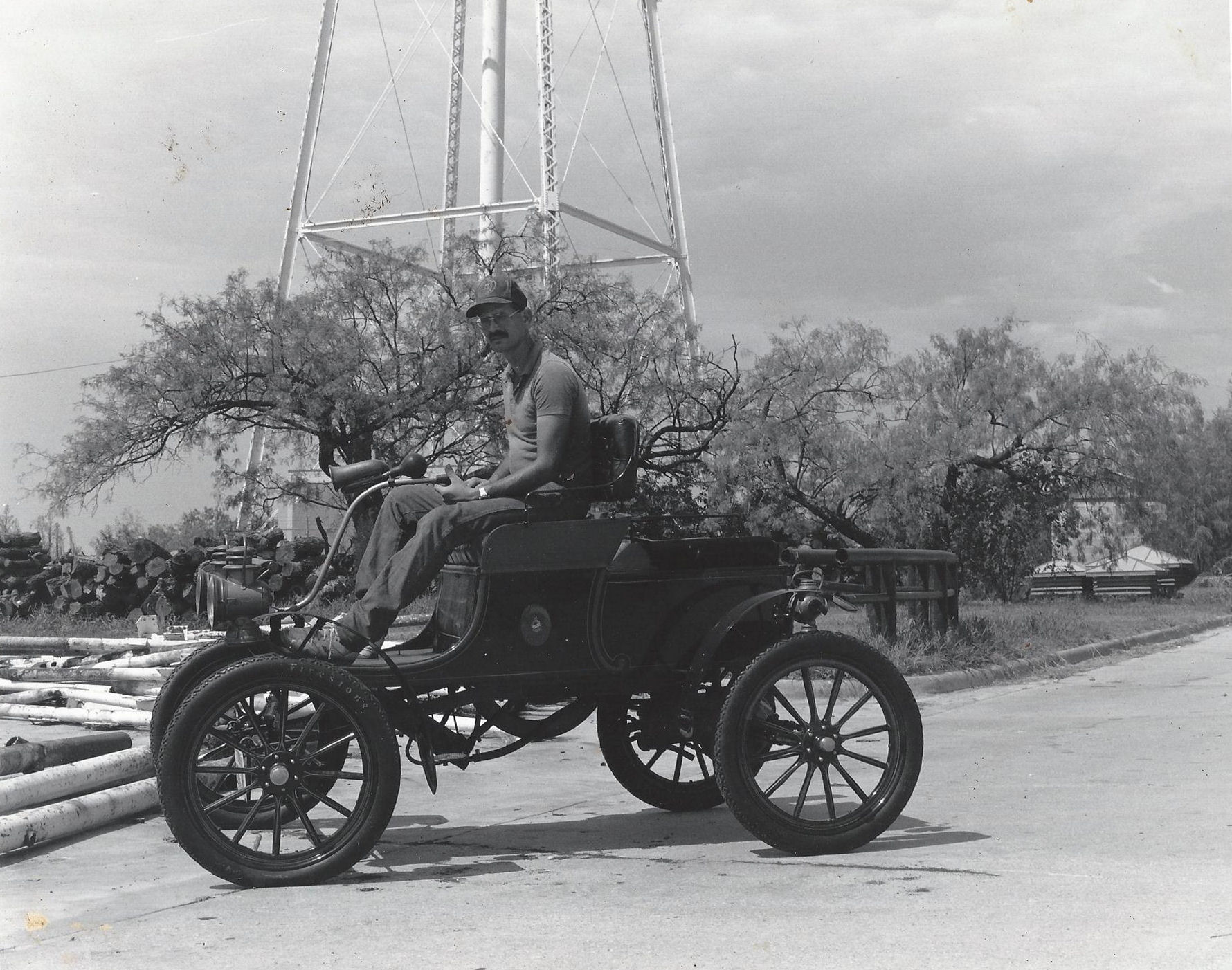 You've had such an interesting life growing up around ranches. Not many people can say that anymore.
My first love is ranching. Even before carving or anything. I was in ranching for 26 years with a prominent Texas family that had ranches all over Texas.
I just always dreamt of working cattle. I'm not a great horseman. I can ride and work horses, but when I was growing up in West Texas, I've always just enjoyed being around and working with cattle.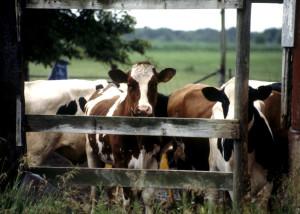 Was your ranching experience all on-the-job training?
I was born and raised in Texas and, when I was a teenager, I went to live in New York with my dad. I went to a special school up there for agriculture. The schools here in Texas, you can get a little taste of agriculture, but the school I went to was three years of pretty intense study.
We raised our own livestock, our own crops, and raised our own hay. We learned how to take apart and overhaul engines, build equipment and had to learn forestry and horticulture and agronomy. All of this was in a high school setting. We spent half a day at one school and half a day at regular school. I spent summers as a canoe guide in the Adirondack Mountains.
Wood-Carved Inspirations From The Outdoors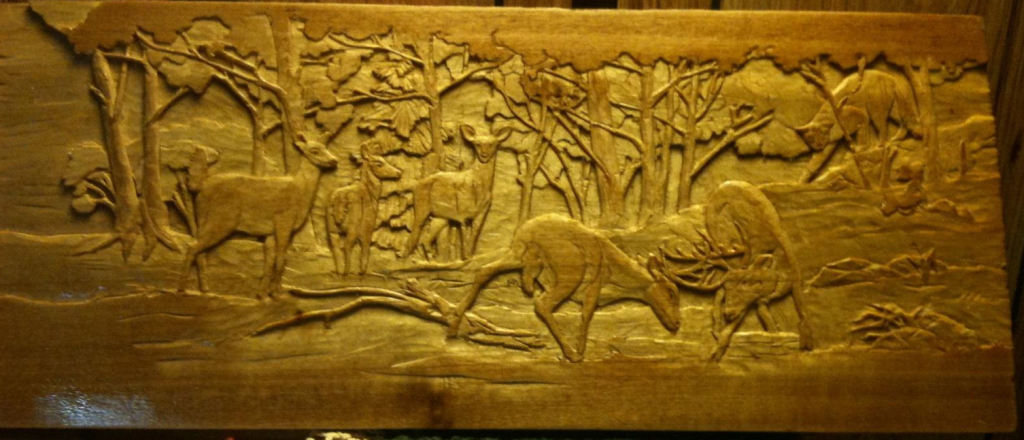 Some insight from Judd:
I'm inspired just looking at nature and things around me. I'll be out and about and I'll see something, like a tree. Trees are pretty cool.
They're really great to carve because there's so many shapes. The knots, the angles, the crooks in the tree where the limbs come in to the base of the tree – trees are really fascinating. They're not easy to carve and they're a challenge. My hand just kind of takes me where I want to go.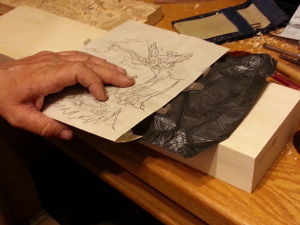 Don't Throw Away Old Coloring Books


There might be some interesting designs in there
Although Judd gets most of his inspiration from the outdoors, he has done the occasional project created from something he saw in a child's coloring book. That amazes me. A child's forgotten activity can be used for a beautiful carving.
He says you first have to find the image you want and think beforehand how you want to use it.
Do you want a carving on a block of wood for display?
Do you want your image carved into a piece of furniture? Are you looking for a 3-dimensional approach or something more subtle?
Then there's the tricks of the trade. Remember carbon paper? I remember typing with it on an old typewriter a long time ago. (Wait, how old am I?)
Woodcarvers often use carbon paper to map out their designs first on a block of wood. A sense of depth is also vital. In an outdoor scene, does one tree stay in the foreground and one stand in the background? How do you define those depths in wood? The distance and depth have to come together just right to create dimension.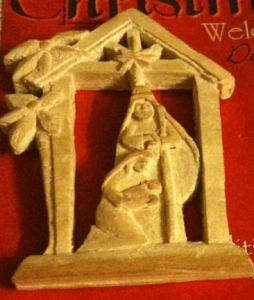 A Wood-Carving Cowboy With a Higher Purpose


"I don't think anything comes to us by accident. I think all gifts that we get are God-given gifts.
You know, I'm really inspired by things in the Bible. Some of my first carvings were crucifixes made out of one piece of wood – a three-dimensional Christ on the cross. I've made three or four of those for different people. You know, they always seem very special to me because they're God-inspired projects. This is our Lord and Savior and I'm carving His likeness to the best of my ability. I always want to bring honor and glory to anything I do that pertains to God."
Three-Dimensional Magic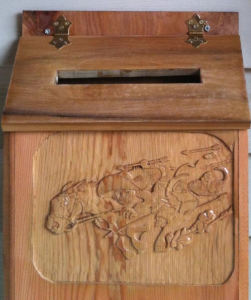 It's amazing to me how the image being carved appears to ascend right out of the wood background.
Relief picture carving, Judd adds, is "very forgiving." If you make a mistake on your design, you can change it up a little, go deeper or shallower. Furthermore, you want your cuts to be clean and that means taking good care of your tools and keeping them nice and sharp, otherwise you'll damage the wood.
Wood carving takes practice just like anything else. You make mistakes. You learn and grow from it. –  Judd Treat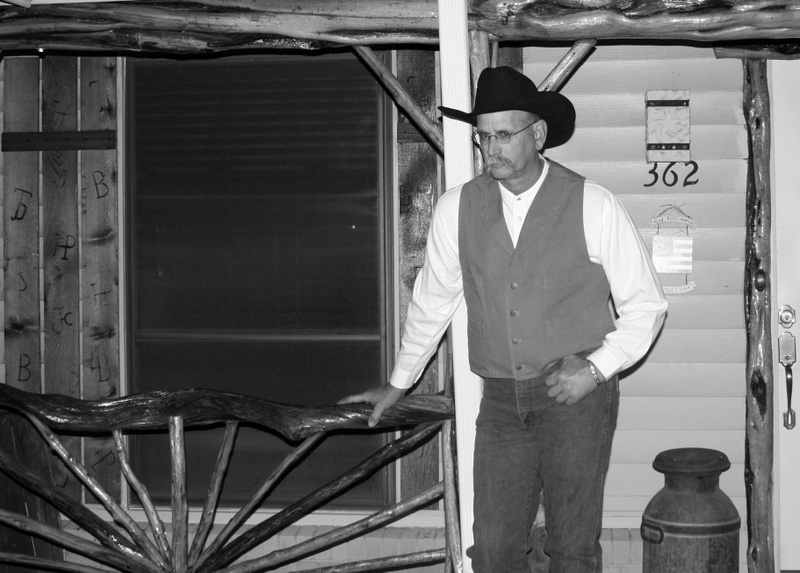 Some more insight from Judd:
Trees are pretty cool. I also want to tackle old rustic barns, maybe carve an old barn with a tractor. I really like doing the carvings of Jesus –one with Jesus at the well or Jesus with the children when they come around. I'd like to do something along that order.
My carving progresses with each piece I do. My skill improves and the details come out better because I've learned more techniques and learned how to work the wood and use the tools. I really haven't found anything I don't think I can carve.
If you don't try, you don't know. If I have mindset going into it saying 'I can't carve that,' then I might as well put down my knives and walk away.
You Have To Have The Right Tools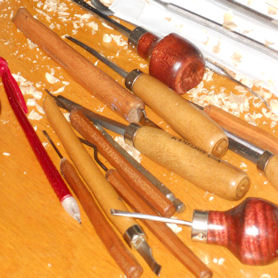 You can buy woodworking tools at several different places including Amazon, Hobby Lobby and others. Judd says many of these tools need honing. You must sharpen and polish them to a good sharp edge so they don't end up damaging the wood.
Will you be passing your tools on to the next generation?
"I would love for one of my children or grandchildren to learn this, but you know it's my talent from God. It might not be their talent from God so my wish for them would be to discover what talent God has for them. If it's woodcarving and they take an interest, then it would be my honor and privilege to show them."
All Natural, Recycled Wood For Beautiful Art Pieces


Scraps repurposed from carving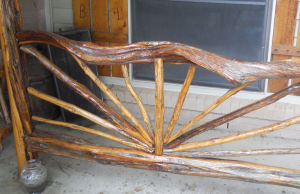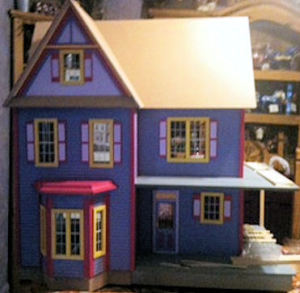 At the recycling facility, we take wood waste, trees, brush, lumber, and old fencing and regrind it and return it to the stream. We produce mulches.
Being around wood and trees all day gives me the opportunity to find a lot of nice wood. My porch is made out of cedar with posts that I brought back from my days of ranching.
Using His Talent for God
God has something that He's given all of us the ability to do and maybe excel at a little bit better than someone else. It's just a matter of being open to God's will and letting Him show you what He wants you to do or what special talent you might have. – Judd Treat
A Beautiful Finished Piece of Art From a Wood-Carving Cowboy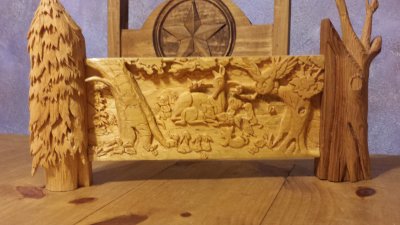 If you're interested in one of these custom, one of a kind, landscape wood carvings, please let me know and I will give you Judd's information so you can reach him.

You could have a unique piece for your own home or buy one as a gift for someone else. He would negotiate with you on the price. On Etsy, prices for wood carvings can range from $30 on up to $800 for larger carvings.
Here's a custom piece I commissioned from Judd for my husband's birthday – a rendering of Stevie Ray Vaughan.  Love it!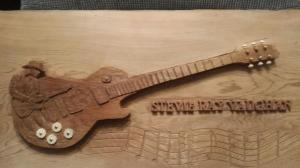 A married father to four kids and grandfather to four grandkids, Judd likes to stay active. In fact, he enjoys camping and the outdoors as much as his schedule will allow. In addition, besides his intriguing wood carving hobby and demanding day job, he's also a chaplain and 4th degree black belt.
Many thanks to Judd, for taking time out of his busy schedule to talk with me about his wood projects and relief carvings.